So, you've finally decided to renovate your bathroom?
Well, we really appreciate your decision but there are a few things you need to consider before making those expense changes. In this article, we'll describe some important things so you may not have to face any problems after renovating the bathroom. So, let's take a look at the things you need to consider when renovating a bathroom.
Plumbing
The plumbing equipment often goes overlooked when we're renovating the bathroom. Normally, the homeowners don't even think of checking the drains which is a huge mistake. If you want to enjoy the long-term benefits of renovating your bathroom, you must check the drains and other plumbing accessories. We bet you'd be shocked to see the huge amount of hair stuck in the bathroom drain.
If you're thinking of changing the drain, we'd recommend choosing the 2-inch drain pipes. It will make you feel free from drainage problems for a long time.
Bathroom Renovation can be way more expensive than you think
If you think you can easily renovate the entire bathroom for a few thousand dollars, you're completely mistaken. Sometimes, the small tasks appear to be so expensive that you can't even imagine. Therefore, you must carefully check the cost of everything involved in renovating the bathroom.
In fact, you must get a quote from different experts to get an idea of how much you'd have to pay in order to renovate your bathroom. You'd be surprised to see those hidden expenses that weren't on your radar before.
Make Small Changes
Who said you need to renovate the entire bathroom at once? If you can't afford to renovate the entire bathroom, you can simply make minor changes every few months. For instance, you can start with the Shower Screen installation and then move to other elements later on. We strongly condemn taking loans for renovating the bathroom as it can be done gradually.
Don't forget the Storage Solutions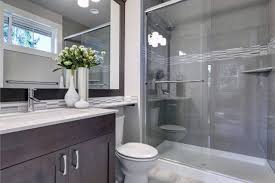 The mistake homeowners make is that they don't think of storage solutions while renovating the bathroom because they think they can add those solutions later on. But they don't know that they'd have to make more effort to install the storage solutions later. Therefore, it's recommended that you take care of the storage solutions while renovating the bathroom so you may not have to waste your time and money later.